The Schwan's Chef Collective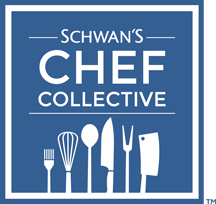 Schwan's Company has grown over the years, but we've remained true to our love of great food.
We've partnered with chefs from top restaurants, food trucks, cookbooks and TV shows. Together we'll scout for emerging ingredients, cooking methods and global cuisines to create new foods you'll love. We'll also collaborate with them for a fresh perspective on foods we offer now and how we could make them even better.
It's all part of our continued journey to create delicious, convenient food that meets dietary needs and uses responsible, sustainable and natural ingredients.