The Schwan's Chef Collective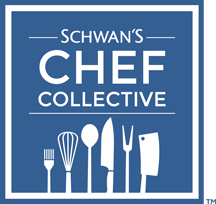 The Schwan's Chef Collective was established in 2015, rooted in the belief that strategic relationships with chefs will drive success for Schwan's Company.
We've partnered with chefs from top restaurants, food trucks, cook books, and TV shows to explore emerging ingredients, cooking methods and cuisines from around the globe to create new foods our customers will love and make the foods we offer today even better.
It's all part of our continued journey to create delicious, convenient foods... and create craveable, impactful moments for our customers.